A gambler's setting wasn't a stretch for photographer Kourtney Roy. "I had already spent lots of time at the races," she says. "I would usually go by myself and drink and smoke and lose money." Her latest photographic series – Ils Pensent Déjà Que Je Suis Folle, or They Already Think I'm Crazy – is also her first museum show, at Le Bal in Paris.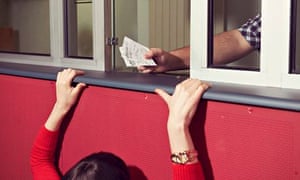 The photography centre partners annually with PMU – Pari Mutuel Urbain, a French chain of betting bars – for a pop-up Carte Blanche showcase. A jury selects an up-and-coming photographer's work on the theme of games or gambling. For its fourth year, the panel selected Roy.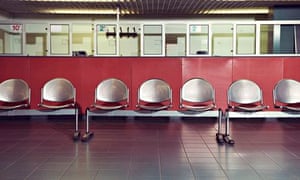 She sought out deliberately vacant spaces at the races: drab walls, rows of metal seats, grey-tiled floors. Bright garments and artificial plants injected vitality into her nondescript settings. "I am drawn to anonymous scenes that are often overlooked," she says. "It's where the magic happens."
Roy confesses she's attracted to "the kitsch, the trashy … I think within the banality lies some poetic truth." But that kitsch is also intriguing, thanks to her retro femme fatales. Roy is both the photographer and subject, and with cropped-coif wigs and glamorous makeup, she doesn't channel any muse or character; instead, she neutralises herself.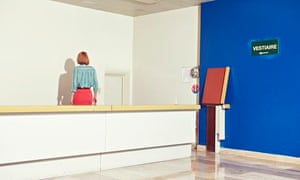 She carefully crops her body within each frame, offering just glimpses of forearms or calves; her face is always concealed. This facelessness can be read as sinister or tongue-in-cheek. Either way, it's a coy manoeuvre in a game of hide-and-seek that depersonalises her alter-egos.
Roy denies any feminist agenda, though, in taking on these settings so often identified as male: "The facelessness just gives more of an uncanny aspect." Though her expressions are veiled and her body truncated, the bright palette makes enough of a statement. "I am a big fan of early colourists like Stephen Shore, William Eggleston, Fred Herzog, Joel Sternfeld," she says, and her images are reminiscent of this revered set. There are bright red jumpers, azure-hued dresses and carrot-coloured skirts, which show a real fashion panache. Roy works on shoots with a stylist friend, Helène Starkman, though she occasionally supplements her own garments ("I have a bit of a wardrobe," she admits).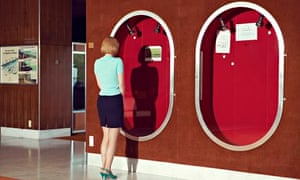 Born in 1981 in Ontario, Canada, she completed a fine arts education in Vancouver. Initially wanting to study painting, she credits tableaux from the Renaissance and baroque as an influence on her photographic vision. After graduating, Roy moved to Paris, where she assisted various fashion photographers. Now, her work mixes art and fashion a la Guy Bourdin. But she keeps to her own style: for this show, her images are hung in surreal, off-kilter ways that highlight, she explains, "the strange way I get swallowed by the decor".
• Ils Pensent Déjà Que Je Suis Folle is at Le Bal until 11 May