Good night from our "as live" coverage
Well that was more fun than should be allowed, really.
Thanks very much for your company tonight, it was delightful to second screen the Aussie broadcast and second screen a few of you on the Twitters – and not one person lobbed a spoiler that I saw, which is absolutely in the spirit of the Eurovisions. Generous, to a fault.

Notwithstanding my concern that Eurovision is becoming less Eurovision, that was a very satisfying end to the competition 2014.
It's a nasty old world. I suspect it's going to be an austere old week in Australian politics – so it's cheery on a Sunday evening to think a drag artist can win Eurovision just because the performance was by far the best offering in the song fest, and that we can be collectively excited about it, watching on, from all around the world.
This is Canberra, saying goodnight Copenhagen 12 or so hours after the fact – and goodnight everywhere else. Have a great evening.
Those of you who are into politics – do join me tomorrow for a busy week.
I'll be steering politics live. I'll look forward to your company.

In terms of the result, hard to disagree, really. Outstanding. Did not think she'd get there.

Updated
The Queen of Europe accepts her victory for her fans.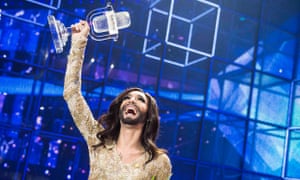 You know who you are, we are unity and we are unstoppable.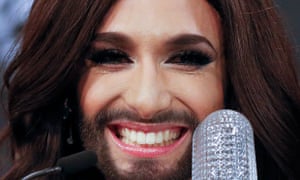 The competition has been called for Austria.

Updated
Oh God .. she did it. SHE DID IT.

Italy, dials in for Conchita. Netherlands still lurks just behind.

Goo Ireland. The twelve points are for Austria.
What is happening in Finland? I think Eminem is dialling in the points.
Conchita looks to be cracking under the strain.

Netherlands creeping up again. Some YouTube to calm ourselves.

Ok, right now: Austria, The Netherlands, Armenia.
I think Conchita is actually going to win this thing. Amazing. Who knew anyone would vote for Austria.

I love Sweden. Just for the record.
Just not this act, this year.

The Netherlands creeping up here, now in third place. Still can't comprehend how Sweden is in second spot.

Trust France to report points in French.
Bonsoir.
CONCHITA IS IN THE LEAD.

Hungary in the lead. This count is about as predictable as a Labor leadership contest.
I'm pleased to report that Conchita is right up there. Third right now. There is, actually hope.
The Russian lady reporting the votes in being booed. Comprehensively.

No way. Sweden, now, in the lead?

Bit tricky given Russia is currently top of the pops.
Just a note for the talent: It's not nice when Kasper and his compere friend laugh at the Albanian man in the cap, even though he's absurd.

Ok, we are at the "good evening" part of the evening.
Votes coming in.
Any points for Russia going down like a lead balloon in this room.

The Danish fairy who won last year is back showing Molly how to do hippy fairy properly – although there has been a strange moment where the lip sync appeared to lapse into actual singing. Sadly, it wasn't very tuneful.
A diversion has been created with a quickie Esther Williams number, an on water matter – with woodland overtones on land. We are feeling the power of our song.

I'm grateful Kasper has stopped singing and playing table tennis. But we are now deep into small talk with the disconcertingly tiny Danish compere/bride-to-be, who seems incredibly interested in the food preferences of the contestants. Make of that what you will.

We'll ignore their fillers for a moment and consider this point from Helen Razer.

I reckon Helen has a point here. I don't want to bring any of us down at this stage of the evening, but there is not enough Eurovision in this year's Eurovision, in my view.
Some people might welcome that development. I'm not happy with it.

And playing table tennis.

Oh. Kasper is singing.

The voting is underway now. (Well it was, when this was actually live. And we don't vote anyway.) So there will be a little bit of talking amongst ourselves.
I did mention at the start of the evening that this blog would be enitrely partial. I am Conchita all the way I'm afraid. Let's recap, shall we?

No, we cannot continue to defame San Marino. We cannot linger back with the Linnets.
Molly must be confronted, with her hippy hairpiece and the henna tats.
Bring back Bonnie. Seriously. I cannot manage Molly at all.
Children of the universe. God spare me.

Updated
They disgust all of us really, let's be honest.

It seems gratuitous to work through the wrong in this song point by point. But I think we can start with the enormous fake shell and the talk singing and work backwards.
No San Marino. But someone has to come last.

Updated
I really do love this song, even though Waylon and Ilse of the Common Linnets (The Netherlands) are a complete for-Eurovision construction with a song that should never be in Eurovision.
Yet I love them. I LOVE this. Let's just listen.

Updated
Another cliche baby. Sadly, Denmark, yes.
My Dutch Americana friends are up next.

Updated
Man .. them's some moves Denmark. Work it baby. Let the ankle sock and the fro shine. Oh my God let's go.

Updated
Pay this.

Malta, by Firelight. Bringing harmony back, with a dulcimer. I think we can call this styling intermittent hipster.
Shame I can almost hear Nickleback somewhere, back there. I'm coming hooooooooome.

Updated
Katharine: "Where is the Hungarian running?"
Family member: "The song is called running."
Katharine: "A bit heavily didactic isn't it? Do we need the re-enactment?"
Family member: [Dignified silence.]
Running, running, running, from this crazy life.

Updated
Now this would be a banjo.

With bonus Steve Martin.
Refresh your glasses tragics. We are in the home stretch of the artistry.

Here is Switzerland. Whistlers in waistcoats. Fusion. Europop and banjo. Sorry, but they don't mix. Not even with a tambourine.
Earl Scruggs he ain't. Oh God, now there's a violin. This must end.

Updated
Now this is what I call Eurovision commentary.
From erudition to the big questions. Why is the Spanish lady wet? Is she a mermaid?
(My husband informs me she's singing in the rain. I had, I confess, missed this subtley.)

Updated
Right Finland. This is where I lose it. Too much cross over this year in Eurovision. Go home, with your fake Indie pop. The silver jacket is not saving you. Wrong.

Updated
There was always a danger this night would peak too early.

Flute on the lips. Glitter on the eyes. Shoulder pads on the ballgown. Sullet on the backup vocalist. It's up to Slovenia to bring us the Eurovisions.

Updated
Italy of course brings the intensity. And the keytar. Long may Italy be Italy.

Updated
Useful the wind machine did not start while the girls were on the see saw. Crowd now seems to be copping Russia. Fickle.

Updated
Russia has rolled around. The crowd has already booed these twins .. and that was before this terrible near ponytail disaster.

Updated
I had no idea Tim Wilson was representing France in Eurovision. The hair pyramid and sometime Freedom Commissioner is lead vocal. Weird Al Yankovic is on the bass.

Updated
I really don't care how many times that our SBS friends say this lady is a favourite – I'm sorry, but for this viewer, Sweden's Sanna Nielsen is food blogger by day, karoke princess by night.
A non-event.

Updated
The beard that stopped the nation.

An accordian, and not before time. It is the only way our German friends can get past the shame of being shamed by Austria. This is Elaiza. Annie Lennox without the charisma, basically.

Updated
I'm going to fly. That is all.

Conchita Wurst. The winner. Whatever happens. Be silent for the Austrian lady with the facial hair.

Updated
No, not even the trampoline could bring that one home.

Freaky Fortune featuring RiskyKidd from Greece. Not a moment too soon. Apart from the lack of coordination. Greek boyz don't pop.

Updated
Nicely managed.
Family blogue. I hope all the children's eyes are covered for the churning section.
Oh no. I just recoiled.

Oh Lord, Poland. Part JayZ, part .. well .. this is a family blogue.

Updated
Readers are now telling me that wasn't iceskating at all. This is very confusing.

Or a miracle. Or rollerskates with tiny wheels. Or magicness.

How can you ice skate when there is .. no ice??? How.

Harsh but fair.

Perhaps back to the pharmacy for Armenia.

Armenia. The act is Aram MP3. (You're not alone. Alone, alone, alone, alone.) Certainly not with all those tracking spots.
Small note to the talent: The frock coat is always a mistake unless you are a doorman at the Hyatt Hotel. It is also a mistake then.
We are still not alone. But in a more growly vocal manifestation.

Updated
Romania has rescued us from Carl, the Norwegian, who drowned in his own pathos. The keyboard-in-the-round is an innovation. A miracle. With a key change.
Yes, that pun was terrible, I agree.

Updated
No Carl, sorry. That didn't work at any level.

Carl Espen from Norway is a chap who knows how to build a ballad. There is a silent storm inside him. There is a silent storm inside all of us really.

Updated
The old step, tap, step, tap combo was ripe for a comeback.

Here comes Iceland. Cheery. Colourful. Except the dude in the purple. I think he may be from a secret service of some kind.

Updated
Powering through to the power ballad. The acrobat, bless her, is in a pants suit.
Azerbaijan's Dilara Kazimova is starting a fire. Just a small note: just because Hugh Jackman in Les Miserables absolutely destroyed the credibility of vibrato doesn't mean you can't deploy it periodically.
Too early for a wine break?

Updated
Teo, from Belarus, is all about the cheesecake. Which would be fine if he hadn't defamed Patrick Swayze in this number – and if he hadn't tried to be Robin Thicke. Because Robin Thicke is unbearable enough. And I hate cheesecake. (Has anyone ever had a good cheesecake, at any time in their lives?)

Updated
Mariya Yaremchuk is tick tocking her heart out for Ukraine. Thus far she's exactly where she needs to be: she's got the upper hand with the hamster wheel.
Enthusiasm high. Pitch optional.

Updated
Now here's Kasper, our host. And his random friends. I'm so very grateful Kasper has attended to the hair disaster of the Friday final.

Let the ululations begin. With the Ukraine. No geopolitics here. All good, I reckon.

Don't peak too early people.

Our friendly hosts in Copenhagen are currently working through the running order. Here is the only fact I intend to supply in this "as live" blog. This list.
That's it.

Ukraine – Mariya Yaremchuk
Belarus – Teo
Azerbaijan – Dilara Kazimova
Iceland – Pollapönk
Norway – Carl Espen
Romania – Paula Seling & OVI
Armenia – Aram MP3
Montenegro – Sergej Ćetković
Poland – Donatan & Cleo
Greece – Freaky Fortune feat. RiskyKidd
Austria – Conchita Wurst
Germany – Elaiza
Sweden – Sanna Nielsen
France – TWIN TWIN
Russia – Tolmachevy Sisters
Italy – Emma
Slovenia – Tinkara Kovač
Finland – Softengine
Spain – Ruth Lorenzo
Switzerland – Sebalter
Hungary – András Kállay-Saunders
Malta – Firelight
Denmark – Basim
The Netherlands – The Common Linnets
San Marino – Valentina Monetta
UK – Molly
Flags and grande jetes. What could possibly go wrong?

People in black seem to be invading Copenhagen in this opening gambit of the final. I think we should keep calm and carry on for now, unless otherwise advised. Unless someone's parachute fails to open.

Twitter. Calm about the hipster incursion. There are certainties in this world. Thank God.

Ah. Here we go. The evening is underway. Could we be more excited? (Actually I'll be ok, whatever happens, as long as that hippy fairy from the UK doesn't steal this thing. That would be a gross miscarriage of justice.)

My lovely Guardian Australia colleague Jess Reed hasn't yet had quite enough downunder time to understand that we are used to being oppressed by the northern hemisphere, crushed by their indifference to our needs – and therefore have to reset our expectations. (Like watching a major result when it's already happened. 'Staya. How it rolls. We take our lumps.)

If you read my longer blog post from earlier today (thanks for that, given it contained a Dr Hook anecdote) .. you'll know that my commentary this evening is entirely partial. The absolute stand out of Eurovision for 2014 in my comprehensively inexpert view is Austria's Conchita Wurst, which is pretty much a guarantee that the striking lady with the beard hasn't got a hope of taking out the contest.
I'm also fond of the Americana inspired dudes from The Netherlands – The Common Linnets. I like their ditty very much. It's like a Gillian Welch number without the musical integrity. But I honestly don't know what this song is doing in Eurovision.
I also confess I'm vaguely disconcerted by the rise of the Euro hipster in this year's songfest. We have more than enough onesie clad excessively bearded baristas in Sydney, Melbourne and Lonsdale Street Braddon. You may feel quite differently, but I'd say – get out of Eurovision people.

Updated
Good evening fellow Eurovision tragics and welcome to our "as live" coverage of tonight's final of the song contest which is already over but only just getting underway in our timezone. (Hence the "as live" business. I feel like tonight we've all been cast in Inception, except the story is actually going to make sense. Well, sort of. It will make Eurovision sense, which is an entirely different category of comprehensible.)

With budget week coming up I could not be more delighted to be swapping the spreadsheets for spangles on this glorious Sunday evening in May. I've been off the air all day in the hope of avoiding spoilers. I hope you've managed to avoid an unscheduled confrontation with how this story ends. In the end you already know how the story ends be kind, not cruel, and please – sit tight on the spoilers as a gesture of respect to fellow blogans and bloganistas.

I wrote a blog today explaining why I love Eurovision. If so inclined, you can read that here. We all love the contest for different reasons – I love it for its capacity to bring us all together in our collective moment of joyful awkwardness. I love the people who disdain the spectacle while tapping their feet furtively in their loungerooms.
I love not only the fromage on the stage but the capacity of the event to create a campfire around which we can all gather with conviviality and good will. A highlight is the ferocious competition on social media about who can fire off the best gags. Given many of you are far more funny than I could ever hope to be, I'll be harvesting some of that tonight. Be bringing the wit people. Your "as live" blogger and your country needs you.
(I don't know that I'll get time to get myself on the twits given the bulk of the energy will be expended here .. but in the event that I do, and you'd like to follow me there, I'm @murpharoo)
Updated