When it comes to the comedy and comedy entertainment category of this year's Baftas, the nominees err very firmly on the side of entertainment. The Graham Norton Show isn't strictly a comedy, Would I Lie To You is an amusing entertainment format and dear old A League of Their Own – being essentially an extended Jacamo commercial about a stag night gone miserably wrong – has managed to somehow scrape in even though it's never actually been even slightly funny or entertaining.
And that leaves BBC Three's The Revolution Will Be Televised which – admittedly more out of logic than anything else – deserves to win. It's not a scripted comedy destined to stand the test of time. It's not particularly beloved. And, given that it's a blunter and less absurd retread of things that Chris Morris had already done 20 years ago, it isn't even very imaginative. But pickings are slim this year, and The Revolution Will Be Televised should win on bravery alone.
And it might. Last year – back in the glory days when there was a comedy category and an entertainment category – The Revolution Will Be Televised won against titans like David Walliams and Alan Partridge. This year, now that they've been amalgamated and its biggest competitor is the millionth series of Call My Funny Bluff, the other nominees shouldn't even bother turning up.
Yes, The Revolution Will Be Televised often succumbs to the Michael Moore/ Mark Thomas school of shouting at receptionists. And that's never a good look, especially when it happens in stunts as clod-footed as Delivering Bullshit to the House of Commons but, when it does manage to hit its target, it can be truly audacious. The stunt that took place during this year's EDL demo in Birmingham, for instance, managed to be both laugh out loud funny and genuinely quite informative. In a landscape where the closest thing to cutting edge satire is Matt Baker asking David Cameron how he sleeps at night on The One Show, the fact that The Revolution Will Be Televised attempts to be both relevant and political, even if it sometimes fails, is laudable.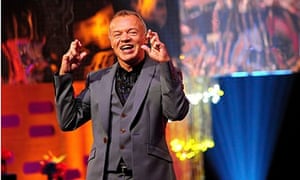 The best sitcom shortlist is better – the nominees are the solid Him & Her: The Wedding, The IT Crowd, Count Arthur Strong, and Toast Of London. The latter deserves to win, but the category is more notable for its absences. House of Fools, Vic and Bob's attempt to shoehorn their freewheeling situationist nonsense into a series of narratives, should have at least been nominated. And hopefully the only reason that Rev isn't on the list is because its broadcast missed the submission date, because Rev deserves to win everything.
In the best entertainment show category, Ant & Dec's Saturday Night Takeaway should walk away victorious. This is partly because it's a ruthlessly efficient mainstream entertainment show that appears to know its target audience's every waking thought, and partly because the other nominees are slightly duff. Derren Brown: The Great Art Robbery was one of Brown's minor works, Strictly Come Dancing is looking increasingly rickety and Dynamo: Magician Impossible is basically just David Blaine in a cagoule.
Which leaves best entertainment performance, perhaps the closest-run category of the lot. Ant and Dec, Sarah Millican, Graham Norton and Charlie Brooker are all nominated, each of whom have an audience that borders on the devotional. There are plenty of reasons why they should all win. Ant & Dec are a twin-headed juggernaut, but winning all those National Television Awards might have put off the snootier Bafta voters. Charlie Brooker is a critical darling, but he's capable of much better than 10 O'Clock Live. Which means it's neck and neck between Millican and Norton – and Norton's probably going to nose it.